Funding
MusicNSW 2017 Opportunity Development Grants Program – Round 1 open now!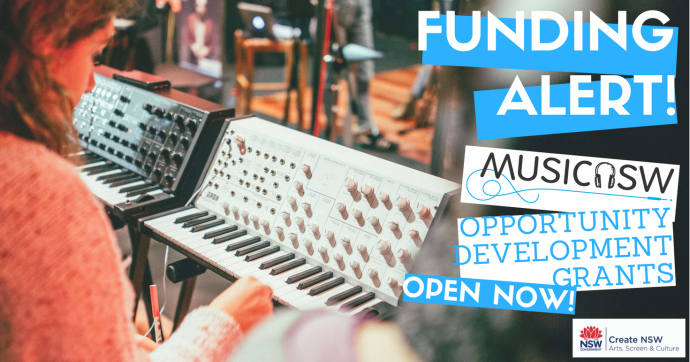 Planning on heading to BIGSOUND this year? Been asked to be a support band on a big Australian tour? Need some $$$ to cover your flights and accommodation? We hear you, and we're here to help! 
MusicNSW is pleased to announce that Round 1 for MusicNSW's Opportunity Development Grants is now open. This program is aimed at supporting musicians and artist managers in developing opportunities whilst attending Australian industry conferences, domestic tours, trade fairs and other career defining opportunities in 2017, such as BIGSOUND, Electronic Music Conference and more. 
Artists and artist managers are invited to apply for one off funding of up to $850 per member of the touring party, with a total limit of $5,500 per group.
The MusicNSW Opportunity Development Grants Program is funded by the NSW Government through Create NSW.
Applications for Round 1 are now open!

APPLY NOW THROUGH SMARTYGRANTS
OPENING DATE
Possible activities*
CLOSING DATE
ANNOUNCEMENT
ROUND 1
June 26, 2017
BIGSOUND, tour support slots etc.
August 4, 2017
Late August 2017
ROUND 2
August 14, 2017
Electronic Music Conference, tour supports etc.
October 6, 2017
Late October 2017
PLEASE NOTE: THESE EVENTS ARE JUST SUGGESTIONS – YOU CAN APPLY FOR DIFFERENT TYPES OF OPPORTUNITIES. PLEASE READ THE GUIDELINES CAREFULLY TO FIND OUT WHICH TYPE OF PROJECTS YOU CAN APPLY FOR FUNDING FOR. 
Before applying, you must read through the 2017 Opportunity Development Grant Guidelines below to ensure you are eligible. 
2017 MUSICNSW OPPORTUNITY DEVELOPMENT GRANT GUIDELINES
Once you've read the guidelines, CLICK HERE TO START YOUR APPLICATION!
For further information contact info@musicnsw.com or give us a call on (02) 9953 5279.
MusicNSW offers several funding programs which are currently in development and will be opening soon.
Become a MusicNSW Member to be kept up to date with new grants and get access to our special member offers.