Funding
OPPORTUNITIES OPEN NOW:
+MusicNSW's Regional Touring Grants
+MusicNSW's All Ages Access (AAA) Grants
+MusicNSW's Opportunity Development Grants
---
MUSICNSW'S REGIONAL TOURING GRANTS NOW OPEN FOR APPLICATION!

MusicNSW and Create NSW are pleased to announce a new pilot initiative for touring in regional NSW. Supporting live music in venues across regional NSW, the grant provides funds towards performances fees for touring artists and musicians.
Designed to encourage artists, managers, promoters and agents to support live music in regional NSW, the Regional Touring Grant will provide funding of up to $15,000 per application to cover artist fees, travel costs, marketing and publicity, and production costs to extend a tour to two or more regional locations, or for a new tour of three or more regional locations in NSW between 2 October 2017 and 2 March 2018.
Regional Touring Grant Information
Download: Regional Touring Grant Guidelines
Apply: Regional Touring Grant Application
Applications open Monday 10 July 2017
Applications close 5pm Friday 1 September 2017
Announcement of Successful Applicants Late September 2017
For events between 2 October 2017 – 2 March 2018
---
ALL AGES ACCESS (AAA) GRANTS 2ND ROUND NOW OPEN FOR APPLICATION!


Want to put on an all ages music event in Inner Sydney? Need some help? Then apply for a MusicNSW AAA Grant!
MusicNSW and the City of Sydney are thrilled to announce the second-round of the AAA Grants program for all ages events in inner Sydney is now open for application.
All ages shows are incredibly important to MusicNSW and City of Sydney as they allow young people the chance to explore their passion for live music in safe spaces, as well as being a valuable investment in future live music audiences. Designed to encourage venues, booking agents, musicians and artist managers to present more all ages shows, the All Ages Access Grants (AAA Grants) will provide funding or up to $15,000 per application to cover artist fees, production and promotion costs for events in inner Sydney between 23 October 2017 and 30 April 2018.
Applications are now open and close at 5pm Friday 29 September 2017.
AAA Grant Information
Download: AAA Grant Guidelines
Download: AAA Grant Application Form
Submit Applications: laura@musicnsw.com
Applications open Monday 3 July 2017
Applications close 5pm Friday 29 September 2017
Announcement of Successful Applicants 9 October 2017
For events between 23 October 2017 –  30 April 2018
---
MusicNSW 2017 Opportunity Development Grants Program – Round 1 open now!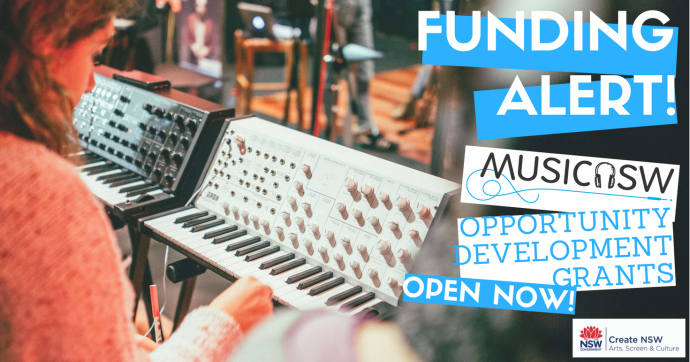 Planning on heading to BIGSOUND this year? Been asked to be a support band on a big Australian tour? Need some $$$ to cover your flights and accommodation? We hear you, and we're here to help! 
MusicNSW is pleased to announce that Round 1 for MusicNSW's Opportunity Development Grants is now open. This program is aimed at supporting musicians and artist managers in developing opportunities whilst attending Australian industry conferences, domestic tours, trade fairs and other career defining opportunities in 2017, such as BIGSOUND, Electronic Music Conference and more. 
Artists and artist managers are invited to apply for one off funding of up to $850 per member of the touring party, with a total limit of $5,500 per group.
The MusicNSW Opportunity Development Grants Program is funded by the NSW Government through Create NSW.
Applications for Round 1 are now open!

APPLY NOW THROUGH SMARTYGRANTS
OPENING DATE
Possible activities*
CLOSING DATE
ANNOUNCEMENT
ROUND 1
June 26, 2017
BIGSOUND, tour support slots etc.
August 4, 2017
Late August 2017
ROUND 2
August 14, 2017
Electronic Music Conference, tour supports etc.
October 6, 2017
Late October 2017
PLEASE NOTE: THESE EVENTS ARE JUST SUGGESTIONS – YOU CAN APPLY FOR DIFFERENT TYPES OF OPPORTUNITIES. PLEASE READ THE GUIDELINES CAREFULLY TO FIND OUT WHICH TYPE OF PROJECTS YOU CAN APPLY FOR FUNDING FOR. 
Before applying, you must read through the 2017 Opportunity Development Grant Guidelines below to ensure you are eligible. 
DOWNLOAD: Opportunity Development Grant 2017 Guidelines
APPLY: Opportunity Development Grant 2017 Application Form
---
For further information contact info@musicnsw.com or give us a call on (02) 9953 5279.
MusicNSW offers several funding programs which are currently in development and will be opening soon.
Become a MusicNSW Member to be kept up to date with new grants and get access to our special member offers.
---
MORE FUNDING OPPORTUNITIES 
Open Now
City Of Sydney: Cultural and Creative Grants
Applications for round 2 of City of Sydney's cultural and creative grants and sponsorships are open now until July 24. The program supports projects and initiatives that provide opportunities for creative participation, enhance creativity in the public domain and strengthen the sustainability and capacity of the City's cultural and creative industries.
Regional Arts NSW: Country Arts Support Program (CASP)
CASP is an annual small grants program administered by Regional Arts NSW on behalf of CreateNSW. This funding supports community arts and cultural activities such as workshops, events and arts activities taking place across regional NSW. Applications close July 27.
Create NSW: Performing Arts Fellowship
Are you an emerging professional musician looking to undertake a mentorship and training, or develop your skills and create a new work? You could be eligible for Create NSW's Performing Arts Fellowship! Applications open now until August 7.
Regional Arts Fund (RAF) Community Grants
The Australian Government's Regional Arts Fund supports sustainable cultural development in regional and remote Australia and meets the strategic priorities of supporting participation in, and access to, the arts and encouraging greater private sector support for the arts. The Regional Arts Fund is designed to benefit regional and remote arts practitioners, arts workers, audiences and communities. Applications close August 10.
Live Music Office: Live and Local
The Live Music Office have announced a second round of program funding for the Live and Local Strategic Initiative in Western Sydney, and for the first time expanding the program into Regional NSW. The program provides jobs for musicians and opportunities for audiences to create vibrant communities. Local councils are invited to submit an Expression of Interest before August 14.
Ongoing
Regional Arts NSW: Quick Response Grants (QUICKS)
Made available under the Regional Arts Fund allocation for NSW, Quick Response Grants offer funding of up to $1,500 for regional artists, arts organisations and communities to respond to unique arts opportunities that present themselves at very short notice.
Create NSW: Artist Support Quick Response Grants
Artist Support Quick Response funding provides professional development opportunities for NSW-based professional artists and arts/cultural workers to support skills development, take up outstanding opportunities of significance for their practice and/or develop markets.
Create NSW: Aboriginal Quick Response Grants
Aboriginal Quick Response supports professional and market development opportunities for NSW Aboriginal artists and arts workers.
PPCA: Performers' Trust Foundation
Established in 1975, the PPCA Performers' Trust Foundation provides grants of up to $3,000 for an individual or $5,000 for a group or organisation to promote and encourage music and the music-related performing arts. The grants provided are non-recurring (i.e. one-off grants rather than a periodical payment) and are determined by the four trustees of the trust.
City of Sydney: Quick Response Grants
City of Sydney's quick response program supports individuals and projects that contribute to increased engagement of individuals and teams in sporting, academic, cultural and environmental fields, improved relative equality, resilience and adaptive capacity of the city's diverse communities, and enhanced positive social, cultural and sustainability outcomes for local communities related to the support for City strategic priorities.
City of Sydney: Venue support grants and sponsorships
A number of venues are owned by the City which are available for hire. The venue support grants and sponsorship program provides assistance to community groups and organisations accessing the City's landmark and community venues for events, concerts, fundraisers, conferences, meetings and community gatherings. The grant is intended for cultural, environmental and community groups and organisations that demonstrate financial hardship.