Returning for its 4th year!! The 4Elements HipHop Festival will present an array of amazing talent, interactive spaces, good vibes, and incredible people.
4Elements HipHop Festival 2018
With a cast of over 100 diverse artists showcasing their talent through performances, rap & dance 'battles', 65m live graffiti and street art wall, exhibition galleries, HipHop and music resource room, industry panels and opportunities to meet and network with the artists and industry professionals. Food, cars, kids activities and more. 4Elements is a safe and welcoming space for those of all backgrounds, all ages and all walks of life.
Those interested in HipHop, the music, events and entertainment industry or simply love music and having fun then this event is for you!!
? Event: 4ELEMENTS HIPHOP FESTIVAL
? When: Saturday 10th March 2018
? Cost: FREE FREE FREE FREE
? Where: Bankstown Arts Centre – 5 Olympic Pde, Bankstown
? Time: 1pm – 11pm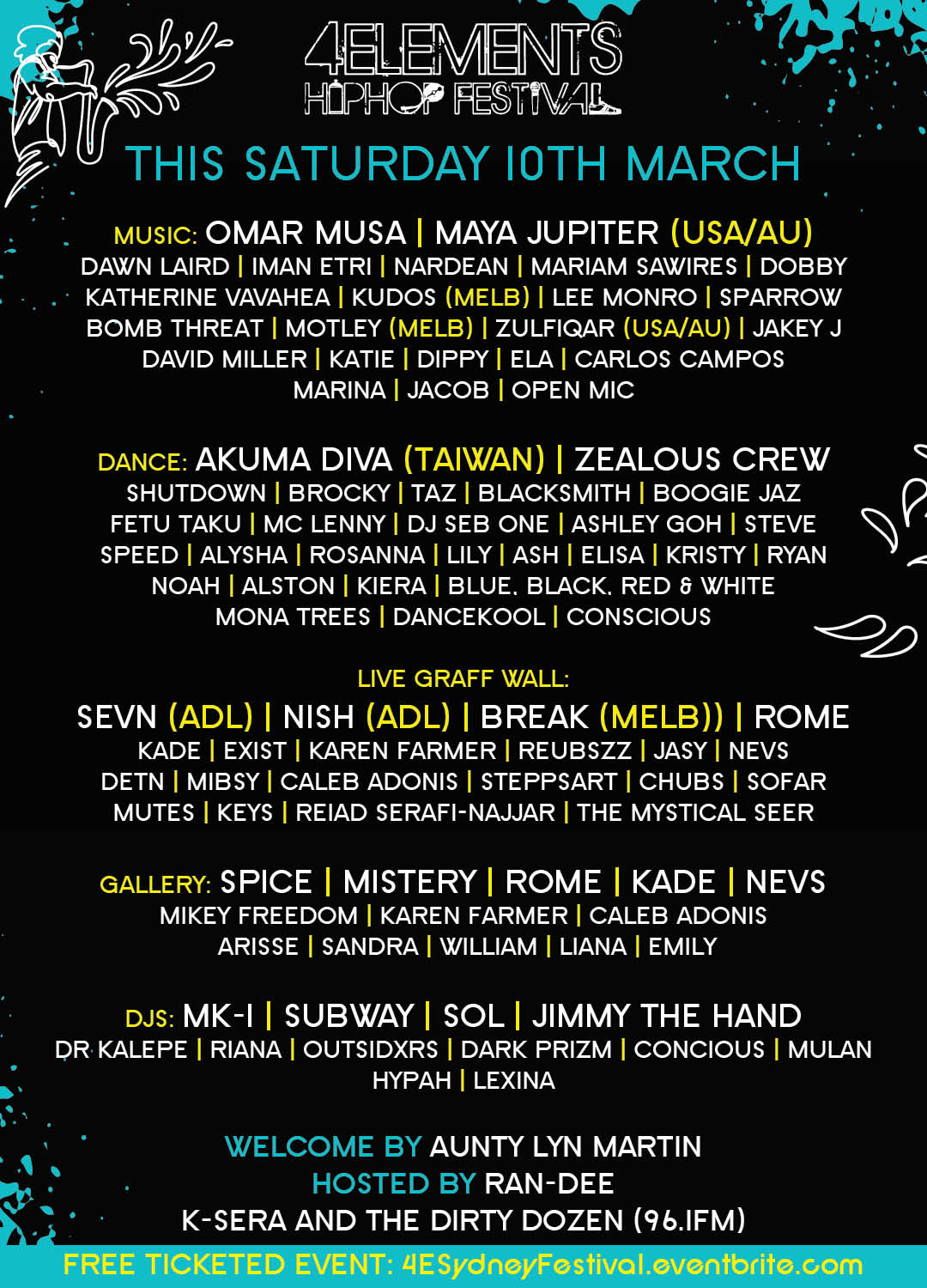 4Elements Seminar 2018
For the first time in 4Element HipHop Festival history, we are expanding to two extra days! Introducing the 4Elements Seminar in 2018.
Join us for two days of interactive panels, seminars, roundtables, workshops and networking events. We'll be having honest uncensored conversations together, unpacking issues of mental health, gender, and race.
Be part of the conversation as we put the HipHop scene and entertainment industry under the microscope, dissecting and analysing what is really going on, finding new ways to make it healthier and sustainable.
? Event: 4Elements Seminar
? When: Thursday 8th and Friday 9th March 2018
? Cost: FREE FREE FREE FREE
? Where: Bankstown Arts Centre – 5 Olympic Pde, Bankstown