MusicNSW is delighted to present SOUND ADVICE: a series of panels, talks and masterclasses featuring the best in the business.
2PM – Planning Your Next Release:
Are you in need of a release plan for your next EP, album or single? ArowAgency's Tamara Georgopoulos and Elizabeth Browne (Bad Pony, Lupa J, Sam Phay, No Frills Twins, Club Yorke) and Mel Cheng from One Louder (Alex the Astronaut, Paul Kelly, Ball Park Music) are here to give you the lowdown on how to plan for your next release. From how to release your music through to a full-scale online promotion, you'll come away with everything you need to know on marketing timelines, publicity, social media strategies and seeking airplay to make sure your music is heard!
3:30PM – Newcastle Industry Speed Meet:
Get to know some of the key players of the Newcastle scene, and connect with your local community at this industry speed meet! Sam King (Newcastle Music Collective), Joab Eastley (No-Fi Collective, RAAVE TAPES), Ben Cooper (LOVE AND RENT) and Bree Smith (Kingdom Sounds) join ArowAgency's Tamara Georgopoulos and Elizabeth Browne and Mel Cheng from One Louder to answer your questions about making it in the music industry!
Hosted by Alex Morris (Newcastle Herald's Weekender Magazine).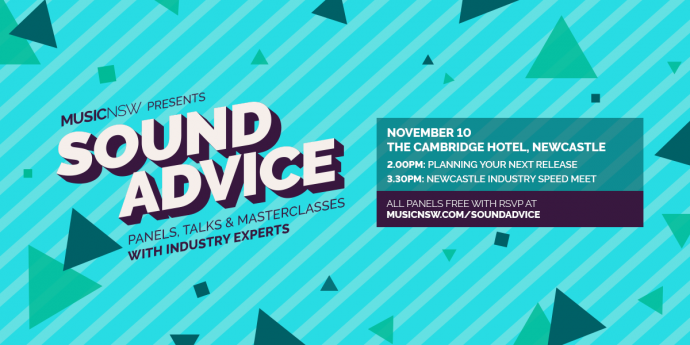 Entry is free and by RSVP only. If you have any access needs please get in touch at info@musicnsw.com!
Sound Advice is supported by Create NSW and APRA AMCOS.
Panellists
Hosted by