MusicNSW and FBi Radio present the Women In Electronic Music Masterclasses for 2018!
Learn from the best in electronic music on May 12 & 19, 2018 at 107 Projects, Redfern! Whether you're starting out in electronic production, or you want to be Sydney's next big DJ, we've got you covered!
An Intro to Ableton Live with Ableton Liveschool and Ninajirachi
Saturday 12th May, 10AM-1PM
Presented by Ableton Liveschool, Sydney producer and Liveschool trainer Ninajirachi will walk you through the basics of creating your own tracks on Ableton! No matter your chosen genre, this Masterclass is perfect introduction for budding producers to one of the world's most popular Digital Audio Workstations.
Plugged In: Using instruments in production and performance with Lupa J
Saturday 12th May, 2-5PM
From live instruments to effects pedals and samplers, learn how to spruce up your live performance and electronic production with violinist turned indie electronic song-maker Lupa J.
One-on-one Audio Engineering Workshops with Antonia Gauci
Saturday 12th May, 10AM-1PM
Get advice on producing and mixing your track during a one-on-one session with professional audio engineer Antonia Gauci. This workshop is the perfect opportunity for solo artists and bands to bring in their own recordings and get tailored advice from an audio expert. Come prepared with questions on how to take your song to the next level to make the most of this masterclass.
The Art of Audio Engineering with Michelle Barry
Saturday 12th May, 2-5PM
Whether you're an emerging beat-maker or electronic artist, or you're after a career in audio, professional producer and sound engineer Michelle Barry has over 20 years of experience to share with you in this tailored masterclass.
The Songwriting Process: From Start to Finish with HABITS (Melbourne)
Saturday 19th May, 10AM-1PM
Melbourne duo HABITS will take you through the entire songwriting process in this masterclass. Push the boundaries of conventional song structures with the forward-thinking two-piece. Previous songwriting experience is not necessary. Come and be inspired, hone your skills and learn from the best!
Intro to Electronic Production and Songwriting with May Lyn (Brisbane)
Saturday 19th May, 2-5PM
Learn how to bring your song ideas to fruition with May Lyn! The Brisbane producer will guide you through the production process using Ableton Live, and teach you the tips and tricks on filling out your songs with the lush electronic textures and strong lyricism she's come to be known for.
Demystifying the Decks: DJing 101 with Ebony Boadu
Saturday 19th May, 2-5PM
DJing 101 is back with Sydney's hip hop queen Ebony Boadu. The FBi Dance Class graduate will teach you the concepts, techniques and equipment vital for getting started with DJing. No matter what genre you're into or your level of experience, this WIEM Masterclass will give you the confidence you need to know your way around the decks and kickstart your DJing career!
Mix It Up: Intermediate DJing with Ayebatonye
Saturday 19th May, 10AM-1PM
Think you have what it takes to be the next big thing in Sydney's club scene? Get behind the decks and take your skills to the next level with Sydney DJ Ayebatonye.
Tickets are $35 via application only. Applications close 5pm, Monday 7th May!
Our Women In Electronic Music masterclasses are open for all. We particularly encourage female-identifying, queer, trans, non-binary, POC and Indigenous people to apply for our masterclasses. There are classes for all levels of experience available.
107 Projects is wheelchair accessible. For further access needs or any questions contact us at info@musicnsw.com!
Thanks to FBi Radio, Ableton Liveschool, 107 Projects and Electronic Music Conference.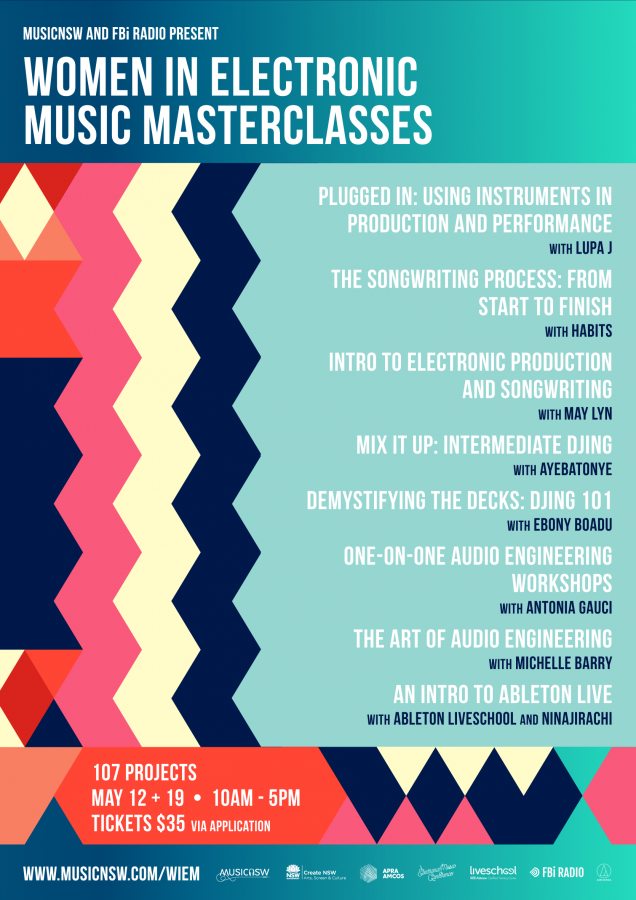 Masterclasses teachers for 2018