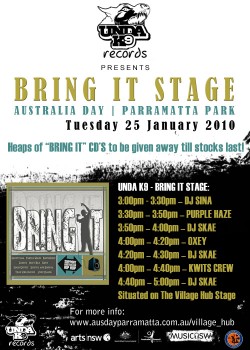 UNDA K9 PRESENT BRING IT STAGE (Village Hub Stage)
AUSTRALIA DAY 26 JANUARY 2010
PARRAMATTA PARK
Bring It is a project of Music NSW, the state service organisation for the support and development of the contemporary music industry. With financial support from both Arts NSW and the Federal Government through the Australia Council for the Arts, Music NSW was able to roll out this unique recording project focused on South and South Western Sydney, which included a region-wide call out for young artists to submit material that explored cultural cohesion, peace, unity and respect.
Live performances on the day feature Kwits Crew, Purple Haze, Oxey, DJ Skae and DJ Sina. We will be giving away copies of the Bring It CD so get there early.
PLAYING TIMES:
3:00pm – 3:30pm – DJ SINA
3:30pm – 3:50pm – PURPLE HAZE
3:50pm – 4:00pm – DJ SKAE
4:00pm – 4:20pm – OXEY
4:20pm – 4:30pm – DJ SKAE
4:00pm – 4:40pm – KWITS CREW
Find more information on Bring It here.