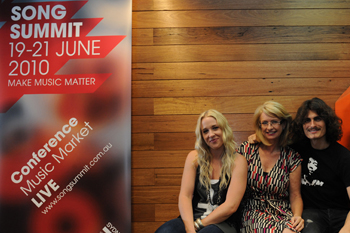 APRA| AMCOS and the NSW Government through Events NSW today announced the program for the second Song Summit, taking place in Sydney from the 19 – 21 June 2010 at the Sydney Convention Centre. The three day conference is a major creative, business development and networking expo for the music industry and includes live performances by international and local talent. This year, Song Summit forms part of Vivid Sydney, a unique festival of light, music and ideas running from the 27 May – 21 June.
On March 26 NSW Minister for the Arts, The Hon. Virginia Judge, announced this year's Song Summit as part of Vivid Sydney commenting, "As Arts Minister and passionate supporter of songwriters and our live music scene, I am delighted to launch Song Summit as part of Vivid Sydney 2010."
"NSW is home to 37 per cent of the nation's creative workforce. Those 150,000 people represent five per cent of the State's total workforce. Supporting creators of original music through the artistic, business development and networking opportunities available at Song Summit reinforces Sydney's reputation as the creative capital of Australia."
Song Summit 2010 will feature high profile, international and local speakers including songwriters, composers and industry experts; alongside a number of workshops, conferences, showcases and networking sessions. Some of the speakers this year include:  Josh Pyke (celebrated Australian songwriter and performer), Julian Hamilton (The Presets), Stephen Schwartz (theatre lyricist and composer), Robert Forster (acclaimed songwriter), Feargal Sharkey (CEO of British Music Rights), Clare Bowditch (ARIA Award winning singer/songwriter), Ian James (MD of Mushroom Records), Lior Attar (ARIA nominated artist), Tim Prescott (CEO of Albert Music) and Kav Temperley (Eskimo Joe).
This year, Song Summit also features a Music Market and Song Summit LIVE – a nightly program of live music performances in venues around the Darling Harbour precinct. The event will also play host to 'Backstage Pass', a full day of workshops for secondary school students, culminating in a live performance. Also returning this year is the 'Listen to the Music' – a series of workshops during which songwriters can submit their music for critique by a panel of high profile music industry panellists. The conference will conclude on the evening of Monday 21 June with the annual APRA Music Awards.
Brett Cottle, CEO APRA| AMCOS welcomed the support of the NSW Government through Events NSW and Song Summit's inclusion within the Vivid Sydney program, "Song Summit offers a superb program of activity dedicated to providing support, business knowledge and inspiration for today's music makers. Through the NSW Government's assistance, we're able to secure important awareness and investment in the future growth of this sector, as well as working alongside the greater creative community through the Vivid program."
Performing at this morning's launch, singer-songwriter and speaker/panellist at this year's conference, Catherine Britt, commented, "Song Summit is such an important vehicle for fostering Australian musical talent and provides invaluable learning opportunities from both a creative and business point of view. The event offers songwriters Australia wide, the chance to build relationships, share experiences and discuss important issues that the music industry faces today."
Song Summit is part of Vivid Sydney (27 May – 21 June) a festival of light, music and ideas featuring the stunning illumination of the Sydney Opera House sails. The festival includes large-scale light installations and projections; music performances and collaborations; creative discussions and debate.  Vivid Sydney is one of five anchor events in the NSW Master Events Calendar.
For more information on Song Summit including speaker information and ticket registration, please visit www.songsummit.com.au and for the full Vivid Sydney program, please visit www.vividsydney.com