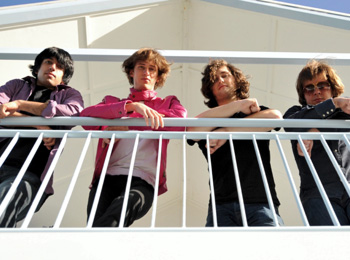 Sydney rock band super FLORENCE jam are a volcanic mixer that's two parts guitar, four parts vocals, two parts bass, one part keys and one part drums. But there are only four of them.
Made up of Adam Krawczyk on vocals and guitar, Laurence Rosier Staines on guitar, vocals and Casio, Mike Solo on drums and Alex Tulett on doubleneck bass, they've bashed out songs in styles ranging from blues, to progressive rock, to punk, to funk (not necessarily in that order) before emerging with their latest lick: the single "Anastasia Won't You Sleep With Me", a blistering fireball of garage rock crunch, backed up by two songs that extend the frenetic sexual urgency to levels not heard since Little Richard.
Alex answers our questions.:
1. What was the first band you saw live?
Of any significance – The Who.
2. What'd you learn from them?
That I hope I die before I get old.
3. Got any pre-gig rituals?
I personally listen to Kanye West's magnum opus "The Good Life" featuring T-Pain. It gets me into a real Next Level Zone.
4. What do you think the most important issue affecting artists in NSW is today?
A lack of good songs.
5. If you weren't a musician what do you reckon you'd be doing?
Critiquing other musicians – haha just kidding, I do that all the time anyway! I'd probably exercise, that looks like it could be a good time.