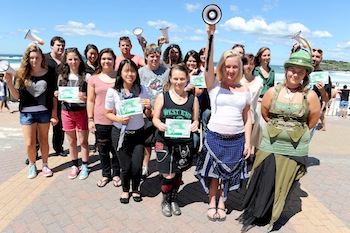 On Friday March 9, 2012 the 2011 ISAAC awards were presented at the annual Indent Open Day – an educational mini-conference aimed at increasing the skills and knowledge base of young people who are interested in launching a career in the music and events industries.
The ISAAC awards are an initiative of Indent, a project of MusicNSW, which recognise and celebrate outstanding contributions to furthering all-ages entertainment around the state. There are ten award categories that cover individuals, event teams, youth workers and local businesses and organisations. Each of the ten categories are industry supported, signifying the quality of work delivered by the winners.
Since it was launched in 2000, Indent has distributed over $1 million in funding to facilitate young event teams in NSW stage their own drug and alcohol free music events through the Partnership Grants program.
A big thank you to our industry supporters; Big Day Out, Youth Week, FBi Radio, YAPA, Youth Safe, Love Police, Boudist, APRA and MusicNSW.
More more information on our all ages initiative Indent head here.
…and the winners are:
| | | |
| --- | --- | --- |
| Award | Industry Supporter | Winner |
| Best Event | Big Day Out | Shorefest |
| Best Team | Youth Week | Rock the YAC Productions, Byron Bay |
| Best Media | FBi Radio | GLOW, Coolamon Shire |
| Best Support Organisation | YAPA | Bland Shire Council |
| Best Safety & Transport | Youth Safe | "Own It" Youth Week Celebration, Bathurst |
| Best Poster | Love Police | Noisy By Choice Talent Quest, Burwood |
| Best Photography | Boudist | Dylan Oliver, Cowra Youth Council |
| Local Supporter Award | MusicNSW | Blacktown Youth Services Association |
| All-ages Band Supporter Award | APRA | Tonight Alive |
| ISAAC of the Year | Indent | Nathan Marshall & Sam Martin, Momentum Music and Media |