On 16 April, 5:30pm, MusicNSW will be in Wagga to host a special community consultation and discussion forum at the Eastern Riverina Arts office.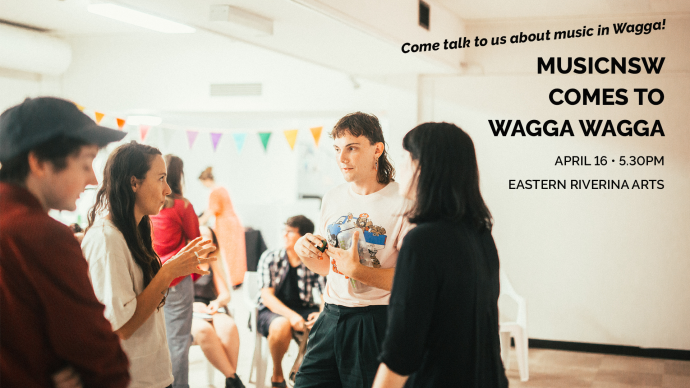 MusicNSW comes to Wagga Wagga for an industry meet n' greet and consultation!
WHEN: April 16, 5:30-19:30PM
WHERE: Eastern Riverina Arts, 98 Fitzmaurice  St, Wagga Wagga
Are you interested in music? Are you a musician? An audience member? A teacher? A promoter? A manager?
This is your opportunity to tell us about how you imagine music in The Riverina, ask for advice, share what's working (or not working), and meet others in your music community.
The information from this event will help MusicNSW as we write our new Regional Strategy, which will see a focus on music in Regional NSW.
This evening will be hosted by Eastern Riverina Arts and will be led by MusicNSW Staff Members Emily Collins (Managing Director) and Laura Murdoch (Executive Producer) who will be joined by MusicNSW Board Members Kathryn Holloway (General Manager, Groovin The Moo) and Vic McEwan (Artist Director, The Cad Factory).
Free entry! Snacks and light refreshments will be available on the night.
For more info contact us at info@musicnsw.com!