Learn all about building your music community at our free Sound Advice panel & speed meet on Wednesday August 1st at 107, Redfern!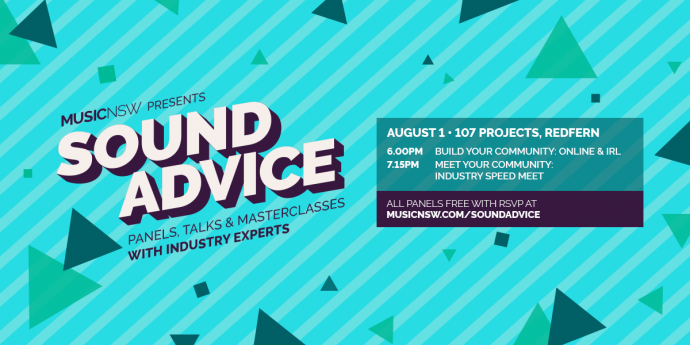 Sound Advice: Build Your Community & Meet Your Community!
WHEN: August 1st, 6-9pm
WHERE: 107 Redfern St, Redfern
6PM – Build Your Community: Online & IRL (Panel Discussion)
Ultimate slashie FlexMami (DJ/MTV host/Radio) chats to Jeb Taylor (Farmer & The Owl), Dan Biddle(Artist manager, Country Music Association of Australia) and Andrew Brassington (Boys Don't Cry) about how they found and built their communities IRL and through the power of social media, and how finding "your people" can help grow music businesses and artist careers.
7:15PM – Meet Your Community: Industry Speed Meet
You've learnt how to build your community, now meet your community! FlexMami, Jeb Taylor, Dan Biddle and Andrew Brassington return for an industry speed meet. You'll get the chance to break into smaller groups with each panelist to ask questions and hear their stories.
RSVP for free here. For more info on the program and panellists head here!