INDENT TOUR 2018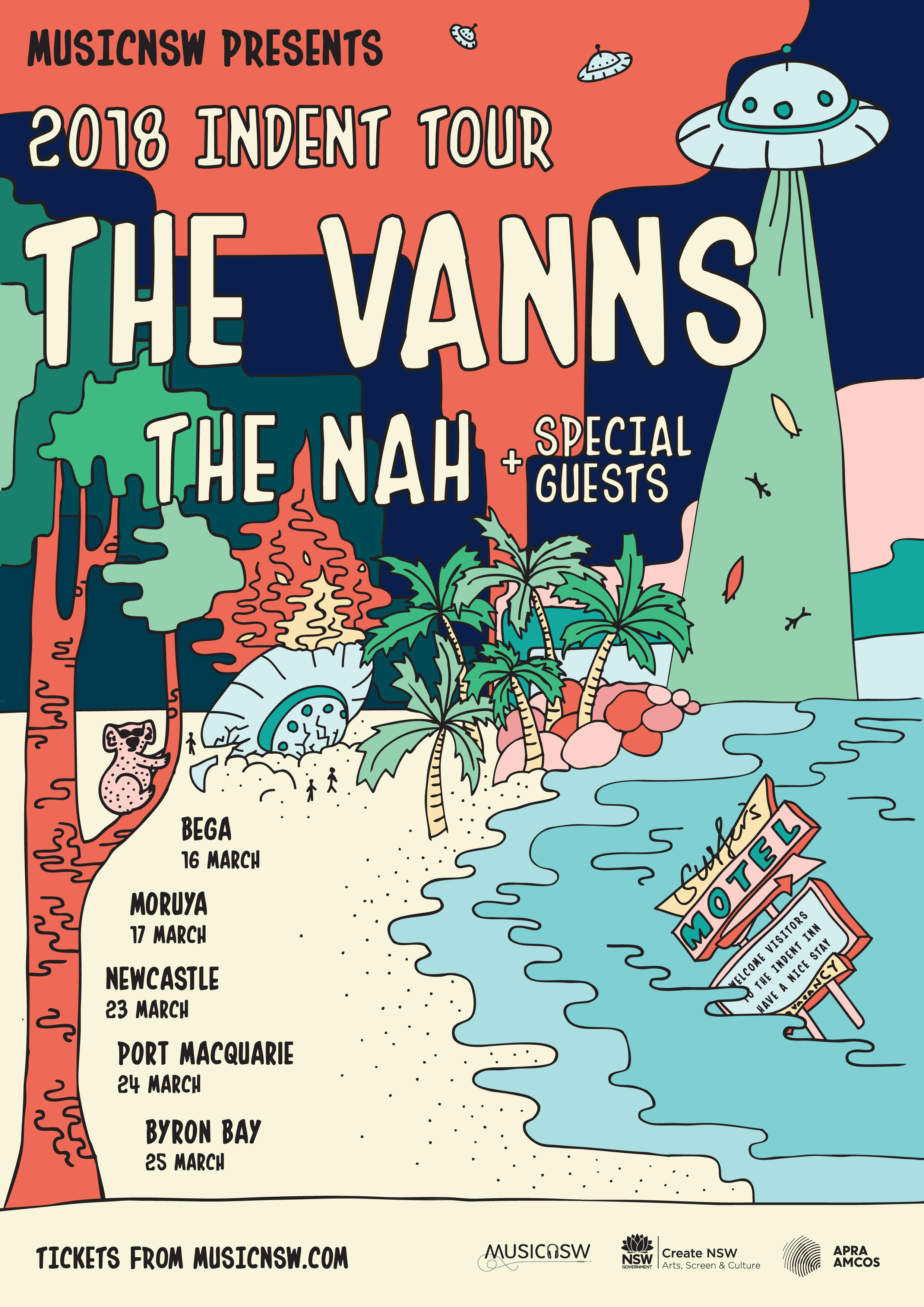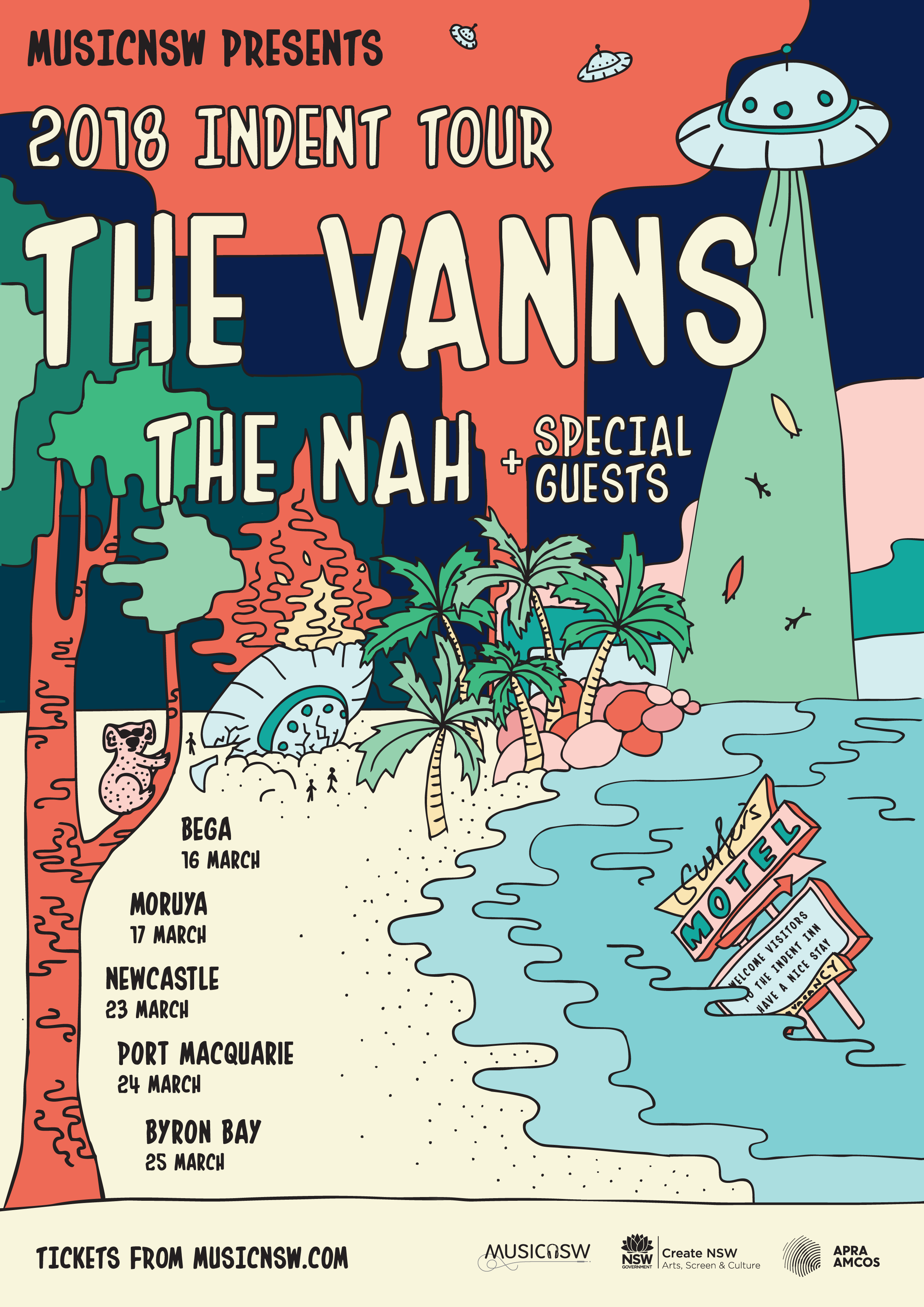 We're absolutely thrilled to be taking two incredible South Coast bands on road around NSW for the 2018 Indent Tour. Blues-tinged alt-rockers The VANNS will be headlining the 5-stop tour, with support from indie surf punk 4-piece The Nah.
The 2018 tour will visit Bega, Moruya, Newcastle, Port Macquarie and Byron Bay between 16th – 25th March 2018. We'll also include a bunch of local supports from each town to join the line-up and can't wait to work with local Indent crew to put on a crackin' all-ages tour with outstanding independent talent!
Grab your tickets now!
Port Macquarie 24th March 2018
LOCAL SUPPORTS
Say hello to the next generation of music makers in regional NSW! MusicNSW is stoked to announce the local supports for our 2018 Indent All-Ages Tour. Joining headliners The Vanns and The Nah in their local areas will be Cuppa Shred (Bega), UltraViolet (Moruya), Milky Thred (Newcastle), Nana Klumpp (Port Macquarie) and WHARVES (Byron Bay). Find out more here.
INDENT CREWS
Working with local young people, The Indent Tour provides hands-on experience in how to put on a live show – including promotion and marketing, setting up equipment, sound checks, ticketing, liaising with artists and venues and more. Each town has its very own Indent Crew of young people who love music and want to learn more about the music industry.
Indent Crews will get hands-on experience in putting on live music gigs through a series of free workshops run by the Indent production team in the weeks leading up to the shows, as well as working on lighting, staging, sound and door sales on the day of the show.
If you are aged between 12-25, live in Bega, Moruya, Newcastle, Port Macquarie and Byron Bay and want to get involved with Indent, REGISTER HERE to be a part of the on-ground crew.
INDENT WORKSHOPS
Before the 2018 INDENT ALL-AGES TOUR: THE VANNS, THE NAH + SPECIAL GUESTS kicks off, we're heading to Bega, Moruya, Newcastle, Byron Bay and Port Macquarie in February for a series of free workshops, all about putting on a killer DIY gig or party!
If you're aged 12-25 and want to head along, join the Indent on-ground crew today! You'll also get to be involved in the production of the tour in March.
APPLICATIONS ARE NOW CLOSED.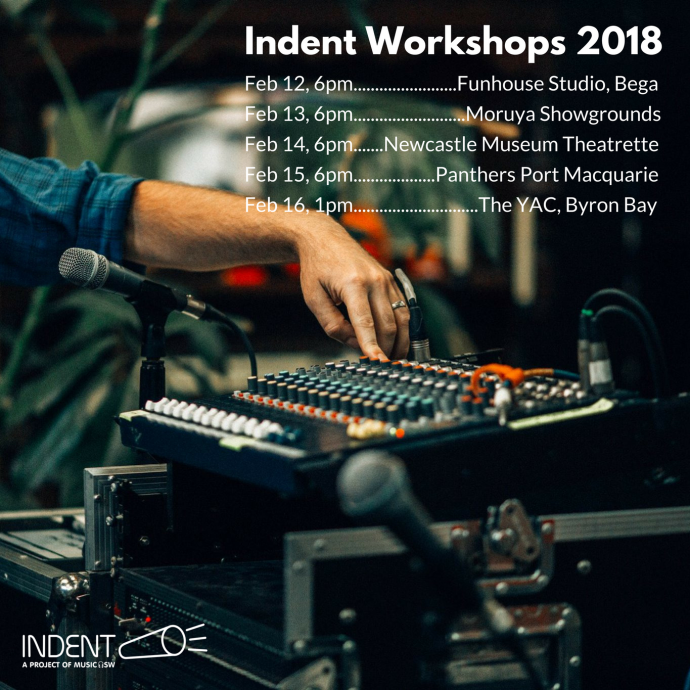 Indent Workshops:
February 12, 6pm at the Funhouse Studio, Bega
February 13, 6pm at the Moruya Showgrounds, Moruya
February 14, 6pm at the Newcastle Museum Theatrette, Newcastle
February 15, 6pm at Panthers Port Macquarie
February 16, 1pm at The YAC, Byron Bay
For any more information or if you'd just like to have a chat to the Indent team here at MusicNSW, email laura@musicnsw.com or give us a call on 02 9953 5279
---

Indent is a project of MusicNSW that was set up to help young people (12 – 25) in NSW access drug and alcohol free all-ages entertainment. Indent provides:
Funding for all ages events
Indent Tour of regional NSW
Workshops and training
Advice, support, and resources
---
INDENT EVENT DEVELOPMENT GRANTS

APPLICATIONS NOW CLOSED FOR 2017
MusicNSW is pleased to our Indent Event Development Grants Program for events for 2018. With two levels of funding, the grants support teams of young people who are interested in staging their own all-ages, drug and alcohol-free music events. Indent event development grants are open to a group of at least five young people (aged 12-25) in partnership with a support organisation such as a local council or local youth service.
Level 1 Event Development Grants for grants up to $2500
If this is the first time you're applying for an Indent grant, then this is the grant for you.
Level 2 Event Development Grants for grants up to $5000
If your Indent team has previously received an Indent Grant (Grassroots or Event Development) then this is the grant for you.
Become a MusicNSW Member to be kept up to date with new grants and get access to our special member offers.
---
PAST INDENT TOURS
Previous Indent tours have featured; Urthboy, In Hearts Wake, Hands Like Houses, Columbus, Tired Lion, and Spit Syndicate.