Australian musicians are set to save thousands of dollars a year in touring costs after a new preferred supplier deal negotiated between the Australian Music Industry Network and Travel Beyond Group.
In an Australian first, Travel Beyond Group has designed a dedicated travel portal available to members of AMIN's associated state and territory bodies which offers discounted Virgin Australia fares (domestically and internationally), heavily discounted accommodation rates and ground requirements.
Highlights include:
Up to 7 per cent discounts on all Virgin Australia domestic fares – excluding sale fares.*
One free date change to bookings on Virgin Australia flights within Australia – not available on sale fares
Discounts available on Virgin Australia flights to international destinations including Los Angeles, New Zealand and Virgin Australia short haul destinations across Asia and the South Pacific
Discounted membership of the Virgin Australia Lounge
Excess Baggage allowances with Virgin Australia** and QANTAS
Discounted rates and reduced excess on car hire
Multiple drivers, flexible driver age below 25 (over the age of 21 and full licence required)
Online portal to book hotels and apartments at best rate including Quest, Mantra, Oaks, Accor, IHG, Starwood, Crown and other boutique properties both in Australia and internationally.
The above offers are subject to terms and conditions, which are available through the Travel Beyond Group booking portal, linked from AMIN organisation websites.
* Discounts offered for bookings made through the Travel Beyond Group booking portal and are not available for bookings made through the Virgin Australia website or Virgin Australia Guest Contact Centre. All discounts are included in the advertised fare price and are subject to change. Discounts do not apply to Virgin Australia sale fares or flights operated by a codeshare partner. Fares are subject to availability and may vary until ticketed. A Booking and Services fee will apply for bookings made by using a credit or debit card or Paypal. Fares are subject to the applicable fare rules and the Virgin Australia Conditions of Carriage. Go to www.virginaustralia.com for full terms and conditions.
** Please contact Virgin Australia's Groups Department for information on the musicians' baggage allowance policy via groupsales@virginaustralia.com or by calling 13 67 00. Discounted membership to the Virgin Australia Lounge can be purchased through Travel Beyond Group with proof of MusicNSW membership. Access to the Virgin Australia Lounge is subject to the Lounge Terms and Conditions and Virgin Australia Lounge Rules.
If you have any further enquiries about the booking process, we have put together a comprehensive FAQ which should answer all your questions. After reading the FAQ, if you have more enquiries about the portal and booking process, contact Wonitta Atkins (Travel Beyond Group) on wonitta.atkins@travelbeyond.com.au /  03 9827 6177.  If you need help with your MusicNSW membership contact Scarlett Di Maio (MusicNSW) on scarlett@musicnsw.com / 02 9953 5279.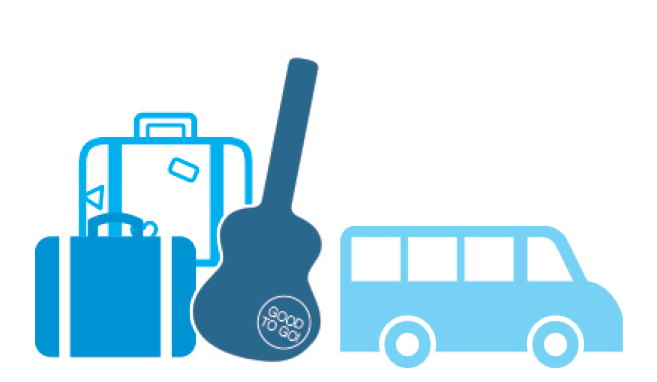 "Last year AMIN surveyed its members about what discounts and benefits they would like us to negotiate for them to complement the excess baggage deal we negotiated with Virgin Australia in 2011" said AMIN Chair Patrick Donovan.
"Well you asked for it – you got it! After discussion with the key travel companies we are thrilled to partner with Travel Beyond Group as our preferred supplier to cut red tape and costs for touring bands. We are particularly thrilled with the 7% discount off the cheapest Virgin Australia flight prices, which will complement the excess baggage discounts and encourage Australian bands to tour more often.''
"Travel Beyond Group are delighted to be selected as the preferred travel partner of AMIN,'' said Wonitta Atkins, Business Solutions Manager for the Travel Beyond Group.
"The portal is simple to use and offers a travel solution not seen previously in the music industry. We are really excited to be a part of this 'game changer' for the industry and look forward to continuing to support local music.''
The first portal on the Music Victoria site will be set up by March 23 for its annual membership drive, and the other state portals rolling out soon afterwards. MusicNSW will inform Members once the portal has been established, and members use their Community Membership number to access the portal where all available fares can be seen, so the best available deals can be bought. Musicians can book their entire tour via the portal and will be provided with a detailed itinerary.
You must be a community member of MusicNSW to access this deals.
Become A Member of MusicNSW. It's FREE! 
Becoming a member of MusicNSW is free, and allows both musicians and music industry professionals access to a wide range of deals, special offers and discounts. To take advantage of special music industry benefits, such as the travel deals offered by AMIN & Travel Beyond Group, or the Virgin Australia or QANTAS' discount baggage deals for musicians and touring industry professionals, all you need to do is fill out the form located on this page. That will also automatically sign you up to our monthly newsletter. Once you have filled the form, you will get a confirmation email with your unique password. To view your membership number or to access the Travel Beyond portal, login on this page using your email address as a username, and the password you were sent after you signed up. Once you sign in you can see your member number and access the Travel Beyond Portal. If you have any further membership enquiries, contact membership@musicnsw.com