Come along to ask questions, listen to the best industry advice, network with other emerging artists and meet some Sydney heroes including Alex the Astronaut, Kwame, RUBY FIELDS, Annie Bass, Dave Ruby Howe (triple j Unearthed), publicist Melody Forghani (twnty three) and many more!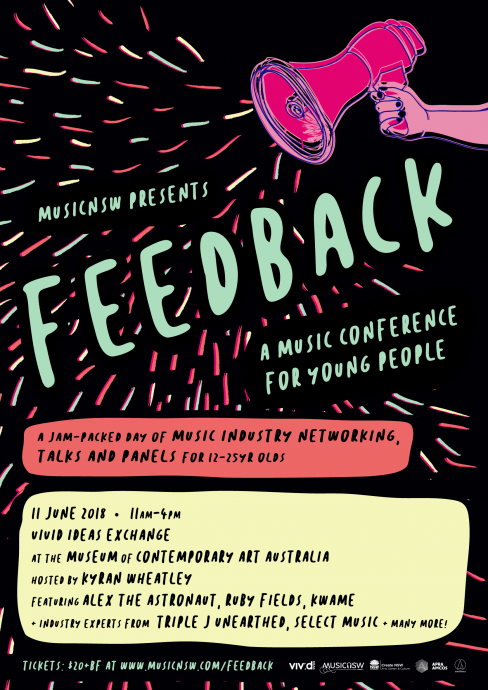 MusicNSW and Vivid Sydney present FEEDBACK: A music conference for young people – a jam-packed day of
music industry networking, talks and panels for 12-25 year olds.
Located at the Vivid Ideas Exchange at the Museum of Contemporary Art Australia, FEEDBACK is the perfect
opportunity for young people who want to learn how to get gigs, release music, build a fan base, work with
publicists, get airplay, find a manager and everything else to progress their music career.
Keynote: Alex the Astronaut
Catch Alex The Astronaut fresh off the back of her European tour to hear stories from the road and tales of how she made it, from her days writing songs as a science student to selling out shows around the country!
Creative Collaboration
Curious about collaboration? Want to know how to avoid the pitfalls of working with other songwriters? Hear from Annie Bass & Christopher Port on managing their creative relationship and their latest single Don't Want, plus Kwame & CLYPSO take you through their recent collaborative track Middle Ground.
Making & Breaking
What does it take to make it in the music industry and break through? On this panel, we're bringing together the people who know how to cut through the noise. Hear all the insider info from Dave Ruby Howe (triple j Unearthed), artist RUBY FIELDS, manager Aaron Girgis (Skegss, Ruby Fields, Pist Idiots) and publicist Aniela Swiatek (Thinking Loud, October Records).
WTF do you do?
Confused by the music industry? Get your questions ready and say hello to the best in the biz at this industry speed-meet. Dave Ruby Howe (triple j Unearthed) is joined by label rep Charlie Ellison (Remote Control Records), booking agent Casey O'Shaughnessy (Select Music), artist manager Cathy Oates (Okenyo, Alex The Astronaut, Dean Lewis), and publicist Melody Forghani (twnty three) to answer the questions you've always wanted to ask in quick-fire rounds.
WHEN: June 11, 11am-4pm
WHERE: Vivid Ideas Exchange, Museum of Contemporary Art Australia, 140 George Street, The Rocks Sydney
TICKETS: $20+bf via Moshtix.
Vivid Sydney is the world's largest festival of light, music and ideas. Celebrating its 10th Anniversary in 2018, Vivid Sydney is continually setting the benchmark for world class events, creativity and innovation. It will transform the Harbour City into a colourful creative canvas for 23 days, from 25 May to 16 June, 2018.
The Festival features large scale light installations and projections; contemporary and cutting-edge music performances
and collaborations; public talks, industry seminars, conferences and workshops, all celebrating Sydney as the creative industries hub of the Asia-Pacific.
Vivid Sydney is owned, managed and produced by Destination NSW, the NSW Government's tourism and major events agency, and in 2017 attracted a record 2.33 million attendees.
For more information visit vividsydney.com