MusicNSW is pleased to announce that the Indent Event Development Grants are now open for application!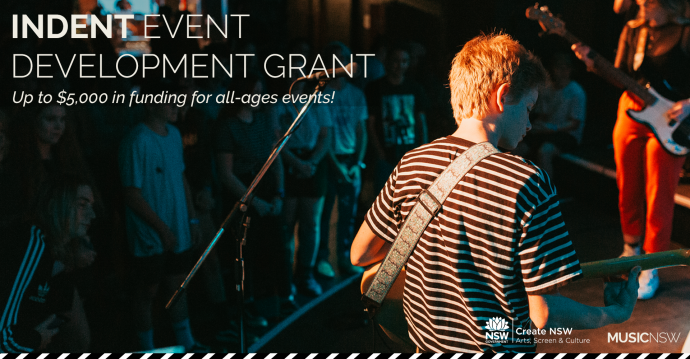 Who can apply?
Indent event development grants are open to a group of at least five young people (aged 12-25) in partnership with a support organisation such as a local council or local youth service.
What can you apply for?
Indent Event Development Grants can be used for the costs of running events that are
All-ages (music played by and accessible to any age)
Drug and alcohol free
Created by young people, with young people as the main target demographic
Live music events
Taking place in NSW
See the Indent Event Development Grant 2018 guidelines for a full list of requirements.
Level 1: Up to $2,500 for all-ages live music events
Suggested events:
Band nights
Band comps
Open mic nights
Workshops incorporated with performances
Level 2: Up to $5,000 for all-ages live music events
Suggested events:
Youth stages at community festivals
All-ages regional tours
Events mentorship programs
Other music events
Applications close 5pm, September 20th, 2018.
Before applying please read the Indent Event Development Grant 2018 Guidelines.
Apply for the Indent Event Development Grant 2018 here.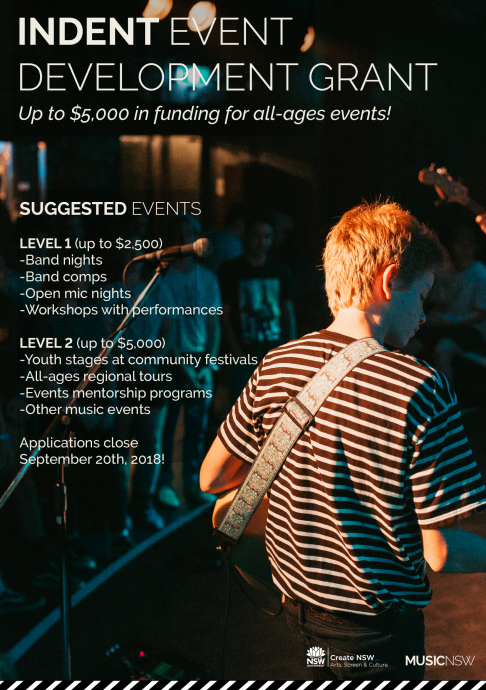 The MusicNSW Indent Event Development Grants Program is funding by the NSW Government through Create NSW.
ONE-ON-ONE GRANT HELP
Interested in applying for our Indent Event Development Grant? Book a 30-minute one-on-one session with MusicNSW staff in person or over the phone to talk through your application.
Please read through the grant guidelines and start your application before booking a session.
Grant applications close 5pm, September 20. Last minute requests for one-on-one sessions may miss out depending on availability.
Get in touch at info@musicnsw.com to book your session!