We're offering MusicNSW members discounted tickets to Electronic Music Conference on November 14-15 at the Dr Chau Chak Wing Building at UTS in Ultimo!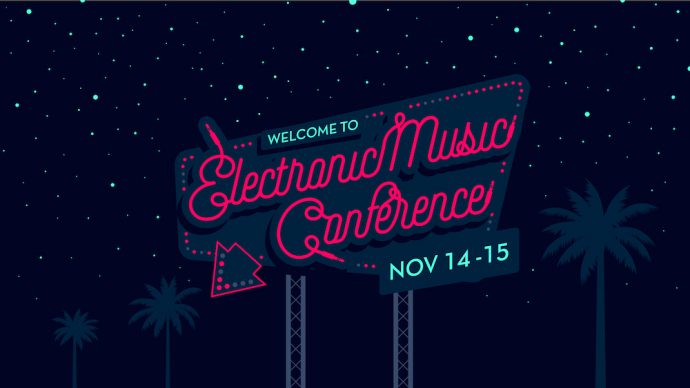 MusicNSW membership is free. Become a member today!
To get a 20% discount code for your Electronic Music Conference pass, email us at info@musicnsw.com!
---
EMC announces 2018 program! 
On Wednesday November 14 and Thursday November 15, EMC returns with a new venue, a line up of incredible speakers and an unmissable program.
NEW HOME
EMC announces its new home – the Frank Gehry designed, multi-award winning Dr Chau Chak Wing Building at UTS in Ultimo. Mind-blowing outside and inside, it has a state of the art auditorium and multiple breakout spaces including 360 engagement spaces, providing the perfect home for EMC's new conference program format.
EMC NEW FORMAT
The new home at UTS' Dr Chau Chak Wing Building enables EMC to contain all conference program activities under the one roof, delivering an unprecedented experience for EMC attendees to take in the entire conference program whilst delivering ease to meet with new connections. This year, EMC will feature a stacked Keynote Theatre featuring front to back keynotes over two days, teamed with four breakout spaces focussing on different streams of content – Tech, an Artist and Manager's Hub, Touring and Events and EMC Studio which houses EMC's workshops and master classes focussed on craft development and music creation.
EMC SPEAKERS
SASHA
EMC's first guest announcement is one of the most prolific electronic music artists of all time, SASHA. Grammy Award nominee, four-time International Dance Music Award winner, four-time DJ Mag award winner, and now acclaimed live artist, SASHA is a man who needs no introduction. Needless to say, EMC is beyond excited to welcome SASHA to EMC for an intimate "In Conversation" in the 2018 Keynote Theatre.
GILLES PETERSON
Also appearing in the Keynote Theatre is the one and only Gilles Peterson. Best known as a radio presenter on Saturday afternoons on BBC 6Music and as an international club tastemaker, Gilles Peterson is also an avid record collector, a curator, a music producer and record label boss. EMC is proud to welcome Gilles back to Australia for his first appearance here since 2015.
GREG WILSON
A DJ since 1975, Greg was a pioneer of mixing in the UK, becoming the first 'dance music' specialist hired in 1983 for a weekly session at Manchester's legendary Haçienda club; was the first DJ to mix live on British TV and showing a certain Norman Cook (later Fatboy Slim) how to scratch. In 2009, Greg's Essential Mix on BBC Radio 1 was selected as one of 10 classics that spanned the shows near 17-year history.
These two British legends team up in the Keynote Theatre for a very special In Conversation: The Psychology of DJing with Gilles Peterson and Greg Wilson.
BLOND:ISH
BLOND:ISH (Viv and Anstascia ) have been trailblazing the globe since 2015. Their debut LP released on Kompakt Records in 2015 was an intoxicating soundscape unlike any other, fusing electronic music with field recordings, traditional instrumentation and polyglot vocals with absolute mastery. Tribal influences are in abundance in their music, a natural result of their spiritual encounters around the globe not to mention the fact that BLOND:ISH is a permanent fixture at Robot Heart at Burning Man. Whether through their acclaimed originals or their epic remixes such as the BLOND:ISH remix of Depeche Mode's 'Should Be Higher' which has clocked up almost 5 million streams on YouTube alone, it's safe to say that their music is consistently delivering its own spiritual encounters.
FLEXMAMI
FlexMami has established herself as an integral part of Australia's youth and urban culture, since 2015. As the ultimate multidisciplinary millennial in media, her experience in television presenting (MTV Presenter), interviews, radio hosting, writing, music, beauty and fashion are well sought after. Carving out her career with her much-loved DJ-ing prowess, she refuses to be limited by the confines of the music industry. FlexMami is one of the most positive and powerful voices of this generation, and EMC is honoured to have her hosting a very special interactive workshop for her EMC debut. Stay tuned for the program announcement in mid September for full details.
JOHN WATSON
Also featuring in EMC's Keynote Theatre is legendary Australian manager John Watson for an In Conversation led by Association of Artist Manager's Leanne de Souza. Widely considered as the most inspirational keynote speaker in Australia, John's gems of wisdom come from an incredible music and management career spanning over three decades. Many artist managers in Australia today reference John's insights, inspirations and wisdom as a reference point throughout their careers – for managers and artists of all levels, this is a keynote not to be missed.
LEANNE de SOUZA
Leanne de Souza is an absolute powerhouse in the Australian music industry. A long-standing champion and advocate for Queensland and women in contemporary music Leanne currently holds the Executive Director role for the Association of Artist Managers (AAM), is a Trustee of the Queensland Performing Arts Centre (QPAC) and the Curatorial Advisor (Music) for the Museum of Brisbane. As a sought-after curator, consultant and facilitator, she works extensively across art forms and with Aboriginal and Torres Strait Islander peoples nationally. As Executive Director of the Association of Artist Managers, (AAM) Leanne brings her unmatched art of facilitation to leading the In Conversation with John Watson at EMC.
CHARLOTTE LUCY CIJFFERS
Last but certainly not least, EMC also welcomes DJ Magazine's Charlotte Lucy Cijffers also appearing at EMC for the first time. Starting her career as a fashion journalist, Charlotte Lucy Cijffers moved to London from Brisbane, Australia, six years ago. She set-up popular online music magazine Chase The Compass on her arrival in 2011, expanding the brand to club-nights around the capital shortly after. Five years on, Chase The Compass now throws disco-themed parties in New York, Sydney, Dublin, London, Barcelona and beyond. In 2014, Charlotte took on the role of digital editor at DJ magazine's UK HQ and has since expanded her role to include the magazine's popular Ibiza print publication.
EMC's 2018 theme is THE FUTURE OF YESTERDAY. At a time when as an industry we are more future focussed than ever before with constant disruption, tech developments, big data and analytics, AI, VR, blockchain and more, EMC's 2018 theme reflects the reality that despite our future focus, we are always looking back to the traditional business models of the past to learn from the shortfalls and errors, and to work towards a brighter future in the music business which offers a fairer playing field for all involved, be they music creators or music businesses. Musically – especially in electronic music which has a DNA embedded in sample based culture – we are forever referencing past sounds and past genres – reworking, remixing and refurnishing nostalgic sounds of yesteryear in a contemporary take for today. EMC's THE FUTURE OF YESTERDAY theme will also pay homage to some of the most golden years in electronic and dance music from the last three decades – 1988; 1998; 2008.
For more info head to www.electronicmusicconference.com!