Sound Advice: Panels // November 8 @ The Works
WHEN: 6pm – 8:30pm, Tuesday 8th November
WHERE: MusicNSW HQ, The Works Glebe, 62 Glebe Point Road, Glebe
COST: Free with RSVP.
RSVP: MOSHTIX.COM.AU
Light refreshments and snacks will be provided by MusicNSW.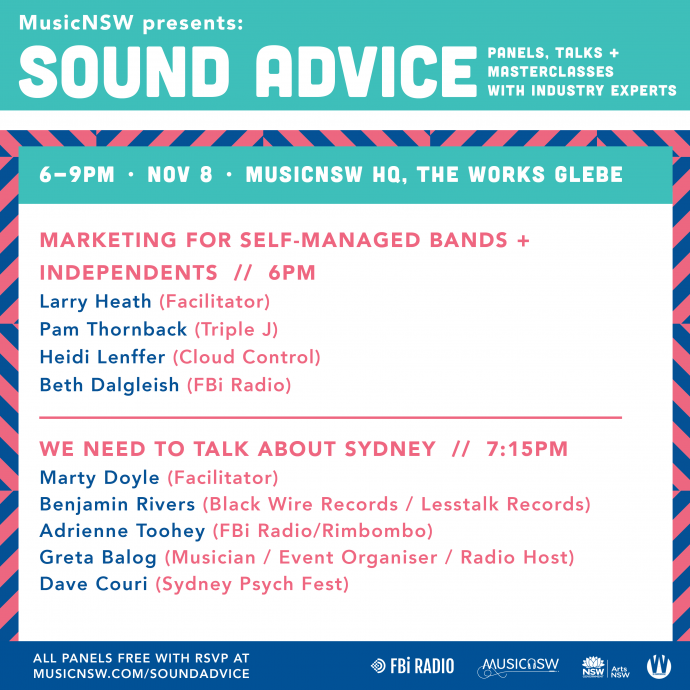 6pm – Marketing for self-managed bands & independents
Feat. Beth Dalgleish (FBi Radio), Jesse Flavell (Sum Management), Pam Thornback (triple j), Heidi Lenffer (Cloud Control). Hosted by Larry Heath (The AU Review).
Only got 7 Facebook Likes and one of them is your mum? Twitter got you stumped? Want to tour but not sure how to reach new audiences? Come find out from experts about how to develop an online audiences and make the most of your marketing.
Beth Dalgleish is Content Manager at FBi Radio, Sydney's largest independent youth broadcaster. FBi is pivotal in discovering new talent, supporting local industry and building broad audiences for local music, arts and culture. Beth oversees the creation and promotion of FBi's multi-platform content, including social media, podcasts, writing, photography and video. You can also catch her presenting the lunch show on Thursday. Prior to FBi, she studied journalism, dabbled in publicity and volunteered wherever she could in the music industry.
Pam Thornback is triple j's Marketing Manager, overseeing the marketing for campaigns including Ausmusic Month, the Hottest 100, One Night Stand and Unearthed High. Previously, Pam was Marketing Director at Inertia, where she was responsible for artist marketing and publicity campaigns for artists including Sia, Bon Iver, Passenger, Bjork and Jack Ladder. She also worked with Handsome Tours to develop the brand and marketing for the inaugural Fairgrounds Festival in 2015; and has lectured frequently at AIM.
Heidi Lenffer is a founding member of influential Australian band Cloud Control and a celebrated songwriter. Originating from the Blue Mountains, the band went on to great success, having been nominated for multiple ARIA Awards and winning the Australian Music Prize in 2011. Cloud Control spent several years based in London, performing extensively around the UK and Europe and has supported a host of international acts such as Vampire Weekend, Supergrass, Arcade Fire, Weezer, Metronomy and Courtney Barnett. Together with Cloud Control, Heidi has toured with some of the biggest acts and played some of the largest festivals across the globe.
_______________________________________________________________
Presented by MusicNSW + FBi Radio
7.15pm We Need to Talk About Sydney
Feat. Ben Rivers (Blackwire Records), Dave Couri (Sydney Psych Fest), Greta Balog (BAD) and Adi Toohey (Rimbombo / FBi Radio). Hosted by Marty Doyle.
Ghost town. Nanny state. Too expensive. Too hard. Nowhere to play. Dying. Dead.
Yeah yeah yeah, the list goes on and on. We get it.
But despite what people say, Sydney still has so many incredible events happening every weekend. So we're going to bring together some of Sydney's brightest minds and boldest DIY hustlers to set the record straight: Sydney's music scene is alive and kicking. We'll be discussing how you can get your own events happening, the pros and cons of doing it yourself, how to build a community and the role of DIY culture in Sydney's ever-changing live music scene.
Adi Toohey – If you've hit the town in the past 12 months, you've probably had a boogie to one of Adi's DJ sets, attended one of her Rimbombo parties or perhaps you've caught her surfing the airwaves at independent music haven FBi Radio in the coveted Saturday Sunset slot. She's been called on to play at all the Sydney haunts as well as interstate for Daydreams and Lost Weekend (MELB), Pickle (CBR), A Love Supreme (BRIS) and some of the country's top festivals including Falls Festival, Splendour In The Grass, OutsideIn, and Subsonic. She's supported the likes of Jack J, Beautiful Swimmers, Hunee, The Black Madonna, Soichi Terada, Jonny Nash and Tornado Wallace. Armed with a hefty bag of wax spanning house, disco, funk and soul, collected from international digging expeditions, Adi knows how to get feet tapping both on- and off-air.
Ben Rivers – Over the last five years Rivers has been working with Lesstalk Records and Black Wire Records since moving to Sydney from Melbourne last year. Focusing on building strong connections between art and community while releasing music in smaller handmade runs. Taking a more experimental approach to events in the recent years he's aim is to understand and improve issues within the DIY community such as inequality and dominate behaviour, for instance the rise in sexual assault in recent years. Through events such as Artless Armchair, SAD by SAD WEST and D.I. Wine & Dine he hopes that by offering alternatives that are considered from a sociological point of view we can shape strong and safer communities within Australian DIY.
Greta Balog was the host of Mornings on FBi Radio in Sydney for two years and since finishing up has been playing in a variety of bands and working on her own project called Greta Now. She just co-organised the sellout BAD Festival which happened two weekends ago at the Factory theater – a festival celebrating diversity in the Sydney and Melbourne music scenes. She is also currently work at Amrap hosting their new Radio Program and work for the Community Media Training Organisation.
Dave Couri – Dave's background blends 15 years of project management experience in the corporate, government, education, and community sectors. Hailing from Sydney's Inner-West, Dave now calls Armidale in the state's North-West his home. He has significant experience in helping local and international acts tour domestically and overseas. In addition to founding the independent record label Bad Vibrations, and the Sydney Psych Fest music festival; Dave works in arts development + production with galleries and museum across the state. As a solo musician, he has toured the US and Europe several times, and plays in Sydney-based psychedelic group Dead Radio. He is passionate about building a local music community that is truly inclusive, creative, representative, and sustainable.
Marty Doyle is a Creative from Sydney. He has worked in the music industry for 15 years across a wide range of roles including A&R, Artist Management, Publishing, Publicity, Bookings, Programming and Creative Consultancy. He has worked for Sydney Festival, Ivy League Records, Modular, Mushroom, Inertia, Goodgod Small Club, Vice and FBi Radio to name just a few. He currently works at Red Bull Australia as their Culture Marketing Specialist and helped launch Red Bull Sound Select in Australia this year. Marty hosts his weekly show on FBi Radio called Dusty Fingers, now in it's 6th year and regularly DJ's across Sydney.  He also curates his own boutique music festival at Carriageworks called At First Sight. Marty has just launched a new podcast series called Sydney Unlocked. A series of conversations on what we want Sydney's cultural future to look like and how we might get there. http://fbiradio.com/podcast/sydney-unlocked/