MusicNSW and Native Tongue Music Publishing are excited to present the Women In Electronic Music Masterclasses for 2017!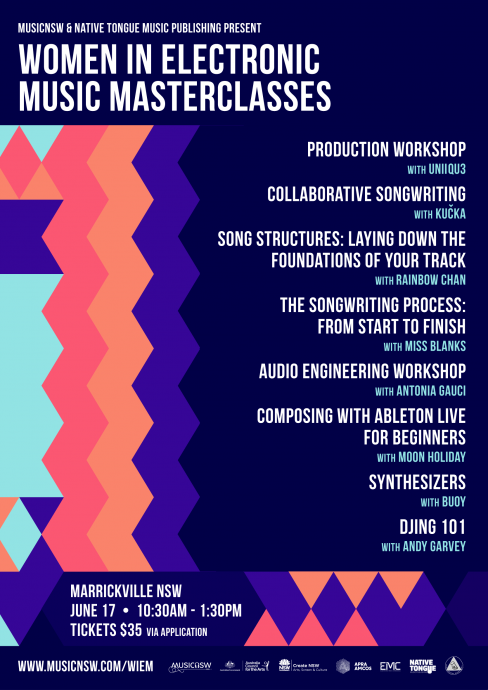 Learn from the best in electronic music on June 17 from 10:30am-1:30pm with UNIIQU3, Ku?ka, Rainbow Chan, Miss Blanks, Antonia Gauci, Moon Holiday, BUOY and Andy Garvey! Whether you're starting out in electronic production, or you want to be Sydney's next big DJ, we've got you covered! Spots are very limited for each Masterclass – make sure you apply by May 31st for your chance to take part.
Song Structures: Laying down the foundations of your track with Rainbow Chan
The Songwriting Process: From Start to Finish with Miss Blanks
Audio Engineering Workshop with Antonia Gauci
Composing with Ableton Live for Beginners with Moon Holiday
Working Together: Collaborative Songwriting with Ku?ka
WHEN: June 17, 10:30AM-1:30PM
WHERE: Marrickville, NSW
TICKETS: $35 via application
UPDATE: Applications for our Masterclasses for 2017 are now closed.
---
School's out! Party late into the night at our Women In Electronic Music Showcase on June 17 at Oxford Art Factory. Tickets on sale now!